Overview
Bioequivalence (BE) studies are performed to assess the in vivo biological equivalence between two pharmaceutical products. The regulations for BE studies in foreign countries can vary significantly in comparison to Japan. In this article, we are going to compare the difference in Japan and Taiwan. Take the purpose of studies for example: BE studies are held to assure therapeutic equivalence of generic products to innovator products in Japan. On the other hand, in Taiwan, the purpose of such studies are also for change in dosage form, formulation, manufacturing process or manufacturer.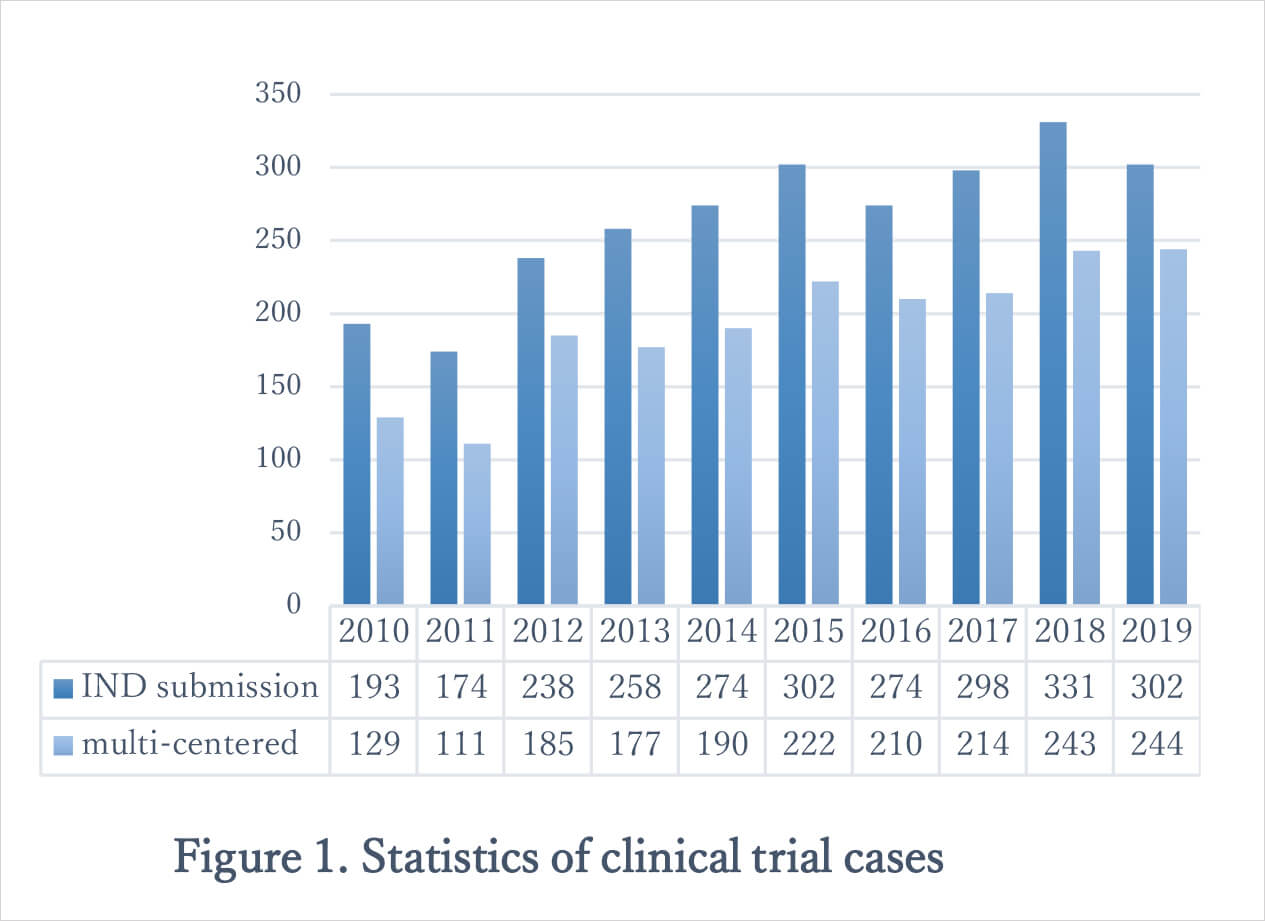 Nowadays, Taiwan's Clinical Trial and Research capabilities are catching the world's attention and there are many multi-centered clinical studies (81% of clinical trials in Taiwan in 2019) taking place in this country (Figure 1.).
Many of the medical regulations under Taiwan Food and Drug Administration (TFDA) refer to USFDA and ICH guidelines and are consistent with global standards. Furthermore, there is a one-stop service center called "Taiwan Clinical Trials" that can provide domestic and international partners with key information on Taiwan's clinical trial environment, which is supported by the Ministry of Health and Welfare Taiwan and managed by the Center for Drug Evaluation (CDE).
Regulations and requirements regarding to BA/BE
Regulations related to BA/BE tests in Taiwan refer to the "Medical Care Act" and "Pharmaceutical Affairs Act". Other regulations of note are "Regulations on Human Trials", "Regulations for Good Clinical Practice", "Regulations for Registration of Medicinal Products (藥品查驗登記審查準則)" and "Regulations for Bioavailability and Bioequivalence Studies (藥品生體可用率及生體相等性試驗作業準則)".
In Japan, guidelines such as "Guideline for Bioequivalence Studies for Generic Products (後発医薬品の生物学的同等性試験ガイドライン)", "Guideline for Bioequivalence Studies of Generic Products for Different for different Strengths of Oral Solid Dosage Forms" and "Guideline for Bioequivalence Studies for Formulation Changes of Oral Solid Dosage Forms" are to be followed.
Let's compare the regulations of the two countries when a BE test is conducted for a generic drug application. In principle, the basic requirements for both Japan and Taiwan are similar. For example, bioequivalence is recognized when there is no significant difference of bioavailability between the targeted pharmaceutical products. When the data from BA study is not sufficient, clinical trial can be requested to prove the equivalence of the products' therapeutic effects. Also, the requirement for study design, washout period, sampling timepoints and analyte selection are identical.
However, the key difference between the two countries lies in the condition of waiving a BE study. In Japan, BE studies for only aqueous solution type intravenous (IV) injection products have the possibility to be waived. In Taiwan, BE studies are can be waived for various generic product categories including IV injection products, oral administered generic drugs with excipients that do not affect absorption of the active ingredient, extravascular administrated injection products, inhaled gases or vapors, generic products for topical uses that are not subcutaneously or intradermally absorbed, ophthalmic and otic generic drugs and some other designated products in Taiwan.
Moreover, BCS (Biopharmaceutical Classification System)-based biowaiver has been implemented in Taiwan since 2016. BCS classifies drug substances into I~IV classes based on their aqueous solubility and intestinal permeability. BCS-based biowaivers are only applicable to drug substances with high solubility and, either high permeability (BCS Class I) or low permeability (BCS Class III). The idea is that the bioavailability will receive minimum affect due to changes in dosage forms or its excipient. In Japan, BCS-based biowaiver is……
Full text & latest issue is found in the mail magazine "Global Newsletter"
The "Global Newsletter" provides the latest information pertaining to clinical trials in the Asian region, including timely updates from Local Health Authorities in the regions of coverage and medical advancements of interest.
To subscribe to the Asian Newsletter, please contact us via the following form.