Introduction
Comparable Overseas Regulators (CORs) report-based process is a regulatory approach introduced by Therapeutic Goods Administration (TGA), Australia's regulatory authority to hasten approval for medicine that has received full overseas marketing approval following a de novo evaluation. This process is applicable to new chemical entities, new fixed dose combinations, generic medicines, biological medicines, biosimilars, extension of indications of medicine and new dosage forms.
The purpose of this process is to shorten the evaluation and decision timeframe for prescription medicines that have already been approved by any COR, as TGA will only need to evaluate data specifically for the Australian context such as labelling, product information and consumer medicine information
TGA currently accepts COR assessment report from 7 regulatory authorities as below:
Health Canada – Canada
Pharmaceuticals and Medical Devices Agency (PMDA) – Japan
Health Science Authority (HSA) – Singapore
SwissMedic – Switzerland
Medicines and Healthcare products Regulatory Agency (MHRA) – United Kingdom
Food and Drug Administration (FDA) – United States
European Medicines Agency (EMA) – European Union
General Eligibility for COR Application
There are currently two approaches under the COR report-based process, namely COR approach A (COR-A) and COR approach B (COR-B). The approach used will depend on what extent is the product data available, which the TGA needs to evaluate. (refer below)
The eligibility of COR-A or COR-B can be identified through the COR application checklist available from the TGA website.
Flowchart on Eligibility for COR report-based process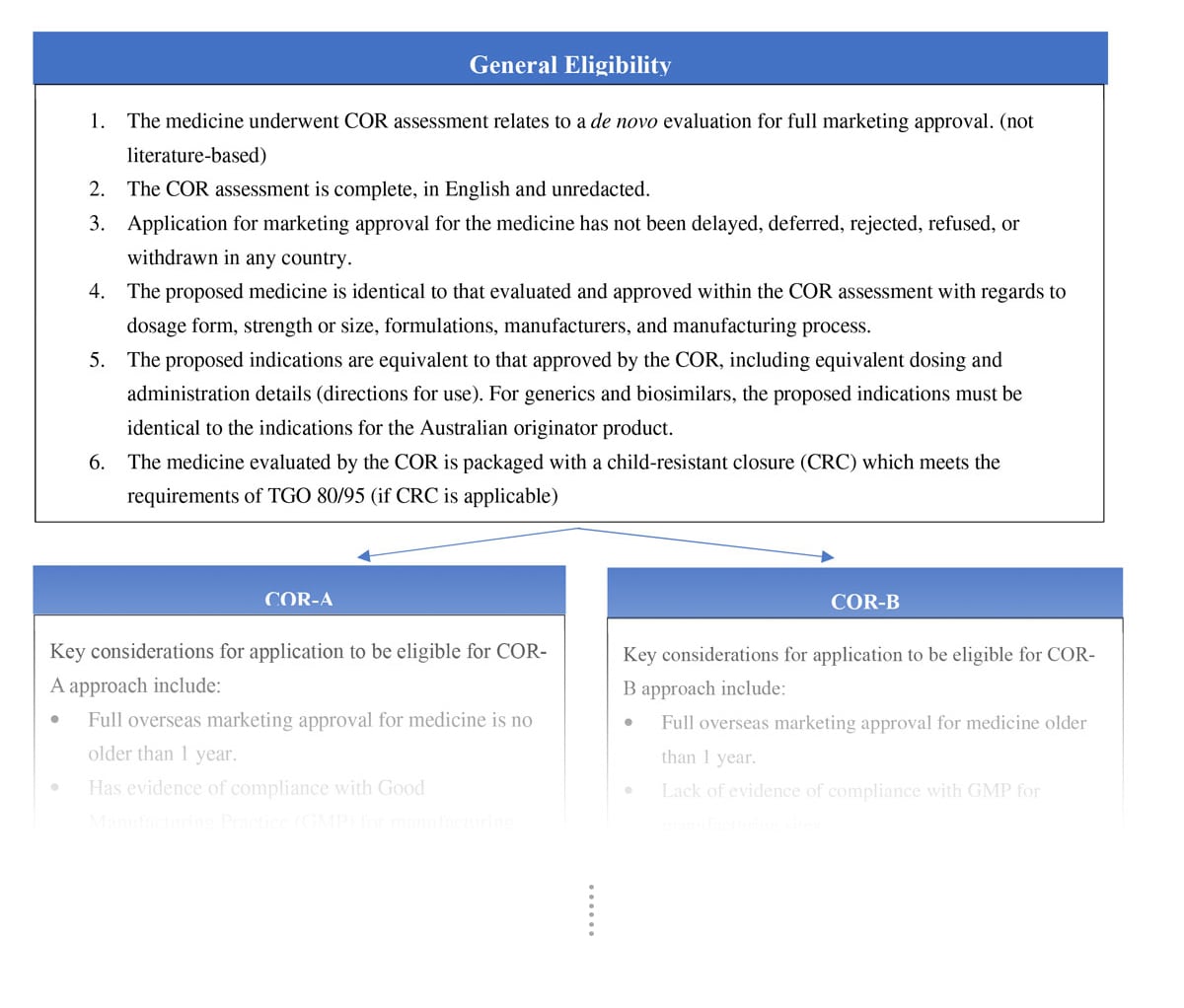 Full text & latest issue is found in the mail magazine "Global Newsletter"
The "Global Newsletter" provides the latest information pertaining to clinical trials in the Asian region, including timely updates from Local Health Authorities in the regions of coverage and medical advancements of interest.
To subscribe to the Asian Newsletter, please contact us via the following form.